S1220 Video Controller, Scaler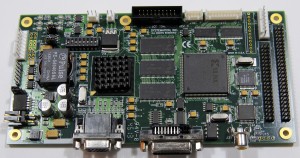 The S1220 Video Controller, by Systemation Technology, is a fully integrated video scaler. It accepts multi inputs, and outputs to all the common LCD types.
This board can "auto-size" and "auto-detect" all video modes, making it easy to use. There are no external boards required for LVDS.
The buffered Vsync output can be connected to backlight inverters or synchronous PWM controllers for flicker free dimming.
The multi input include:
Analog VGA (up to 1600 X 1200)
DVI (Digital Video Interface)
Composite NTSC or PAL video
Custom inputs, such as 875/ 945 line video easily added
This video controller, scaler board can drive digital TTL type LCDs or single or dual channel LVDS type LCDs, including:
VGA
SVGA
XGA
SXGA
UXGA
WUXGA
SXGA + SXGA Plus
This board can "Search for Input" or the user can select from the following modes:
VGA RGBHV
VGA RGsB
VGA RGBS
DVI
NTSC/PAL